DaisyCode x Prada Limited-Edition | Vogue FNO 2019
This past February, DaisyCode's founder, Daisy Hsiang found herself on a fabulous trip as a Prada VIP at Milan Fashion Week. To extend the excitement of this beautiful memory to you, we have created this limited edition care package in collaboration with Prada!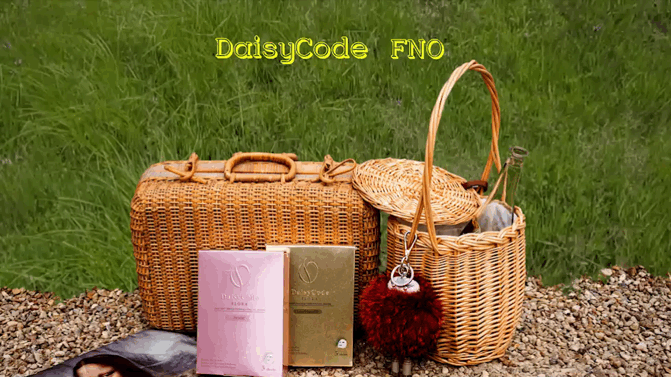 Moving through the world to take care of loved ones or business do you neglect to take care of yourself? Let the canvas print carry your imagination to the Italian Riviera, lined with stripped umbrellas. Reach inside for a touch of sunny, beach-side lounging. Hand-packed from our home to yours, we hope this gift can be our way of taking care of you.
Show me the goods - Your beautiful package includes:
DaisyCode Flora - Far-Infrared Pure Essential Oil Sheet Mask
Bio-formulated with far-infrared, organic Tisserand Bulgarian rose or lavender essential oil, collagen placenta and hyaluronic acid. This mask will deeply hydrate skin and revitalize dull or uneven skin tones. Far-infrared therapy warms the skin like a steam treatment to open pores, accelerate blood circulation and promote the secretion of collagen for firmer skin. Pores open to encourage absorption of the nutrient-rich essence. In the Flora series there is the Lavender edition and the Rose edition mask. Using different essential oils for the respective perfume of Lavender and Rose, they each perform different target functions of either skin brightening or skin hydrating, to give your skin what it needs most.
Prada lightweight Canvas striped cosmetic bag - combining luxury and practicality
Who said travellers must trade luxury for practicality? This lightweight and compact water resistant cosmetic pouch decorated with the Prada logo is the embodiment of a elegant rebellious spirit that tends to come with the well-travelled.
DaisyCode Water Melon Lovers - Organic Exfoliating Cleansing Bar
One of fifty artisan bars hand-crafted in Vancouver, Canada with all the nostalgically sweet and refreshing pleasures of summer. With top notes of watermelon essence, the Water Melon Lovers combines an organic blend of almond, olive, coconut, and avocado oil to perfume skin with a comforting, gourmand scent. Scrubby poppy seeds gently exfoliate and massage skin clean while the aloe vera is calming and gentle. Each slice melts into deliciously balanced skin. Hand-wrapped in illustrated wrapping adorned with original artwork, the Water Melon Lovers Cleansing bar tell a story straight from our hearts.
More than a luxurious escape, this is simply a gift set filled with love! From September 28th at VOGUE FNO, this DaisyCode boutique package will be waiting for you!